News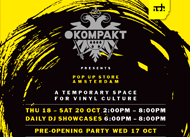 KOMPAKT meets Oz. part 6
09.10.2018
For the sixth year in a row, the Kompakt Pop Up Store finds its temporary home during ADE at Oz.! Kompakt will bring their finest selection of vinyl fresh from their legendary record store in Cologne. Enjoy music & drinks, shop great records and items, meet the Kompakt crew, chill out and finally dance to the crazy basement DJ showcases.

To celebrate their 20th anniversary 2013, Cologne-based KOMPAKT are taking their record store on tour – setting up pop up stores in key cities across Europe supported by Electronic Beats, Telekom's international music program.

RSVP INFORMATION:
+ For the pre-opening on Wednesday 17 Oct at 6 PM the wristband pickup starts at 5 PM.
+ We kindly ask you to pick up a wristband at our pop-up store, from Thursday to Saturday between 2 and 5 PM.
+ If you have picked up a wristband in the daytime, you can exit and re-enter as long as capacity allows it.