News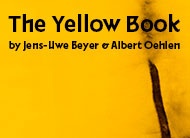 ADE: Jens-Uwe Beyer x Albert Oehlen + Magazine Records
07.10.2019
ADE is about to break loose and boy do we have something special once more! Jens-Uwe Beyer and Albert Oehlen present their art and music project The Yellow Book.
This project brings together the visual and conceptual art of Oehlen and the musical and conceptual art of Beyer. It will be released as an 8 LP-box set and digitally, in collaboration with the global network of art galleries specializing in modern and contemporary art Gagosian, on the Magazine label. 
At Oz. the music is presented with visuals as a continuous installation. You're invited to delve into the world of The Yellow Book.
Wednesday 16 – Saturday 19 Octobre from 16.00 – 21.00 hrs.
Generous support by:
Gulpener Bierbrouwerij