Gallery agenda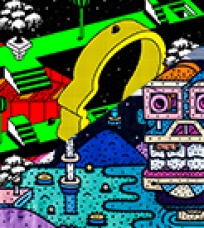 'Time and Space' by Dotsy and Johan (Late) Moorman
11.09.2015
On Friday the 11th of September, Dotsy and Late will be exhibiting new works at Oz. For the occassion Dj's J-Baggs and Miss Samidi are invited for the music. 
Dotsy from Stockholm is an artist currently living and working in Amsterdam. Most of the time Dotsy is drawing, painting murals and skating through the city, but he is also freelancing in the design and animation field. His creativity is moving back and forth between digital and analog. You can see this in his spray-painted murals that look like they stepped from the screen and projected themselves into the real world. Abstract figures and lettering in space-like surroundings get your attention through simple but detailed shapes and a distinctive color palette that always stand out from its surroundings.
Johan (Late) Moorman is one of those 90s graffiti artist/skateboarders from the Dutch city of light (Eindhoven) that never stopped exploring and experimenting. Not only in style, but also with different media. Late grew up in a city full of technology and design and graduated at the academy of Rotterdam. This background has its influence on his interests in geometry, the Memphis Movement, new psychedelica, Sol LeWitt, arcades and more. After graduating he started 'Spielerei' and became the graphic designer of 'Effenaar' in Eindhoven. In Late's work it seems like the clock stopped ticking. Spaces that feel like playgrounds where objects and shapes keep each other in balance as if everything in the image was in full motion and then got paused. The retro-futuristic style and the integrated lettering, create an adventurous world that invites to be explored.
The exhibition can be visited till the 9th of october by appointment.
Check out the facebook event page and let us now if you will be present on the 11th of september. Good art, music, drinks and people!