Gallery agenda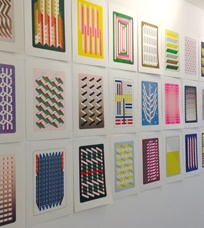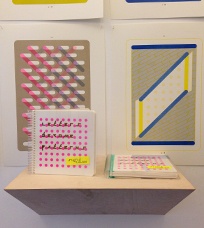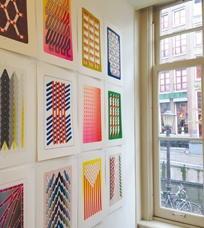 Exhibition Sigrid Calon
08.11.2014
Sigrid has been working for years with a pretty limited form-vocabulary (dotted grids and tube-shaped bars that look suspiciously similar to embroidery), but she is far from being done experimenting. Shape, colour, composition, material,
production methods all create new, surprising and exciting results. At Oz. Sigrid shows an exciting series of Riso-prints and her newest artist-book Letters Become Patters.
In 2014 she and/or her work travelled from her hometown Tilburg to the artbookfair in LA, followed by Bologna and Milan, then Munich, quickly to Roermond, a return trip to the New York artbookfair, the Dutch Design Week in Eindhoven, an art fair in Cologne and then – in between a series of lectures – it is time to see her work in Oz.!!
Be sure to come check out Sigrid's work and meet her at the opening on November 8. We are looking forward to seeing you there!
More info on our Facebook eventpage